Barca News
Real Madrid
Despite a huge rivalry of many decades, Real Madrid and Barcelona enjoys a very cordial relationship

After Real Madrid won the UEFA Super Cup for a record fifth time, a proud Florentina Perez was cornered by the press to get his views on the current crisis in Barcelona and his sympathetic words were laced with empathy and respect for the Catalonian Club. Without mincing words he expressed optimism that Barcelona will bounce back from the current challenges according to a report in Marca. He opined that between Barcelona and Real Madrid we have the two best clubs in the world which he says explains why more than 600 million people watch the El Claasico matches each time they are played.
Sports rivalry aren't always a good thing as some emotional fans easily cross the line into fanaticism. This leads to racial and physical abuses, hooliganism and brazen lawlessness of all sorts. Attitudes like the one often displayed by Barcelona and Real Madrid go a long way in taming such foolishness. In fact Real Madrid and Barcelona have hardly ever missed a chance of congratulating one another when each team wins a trophy particularly the La Liga and UEFA Champions League.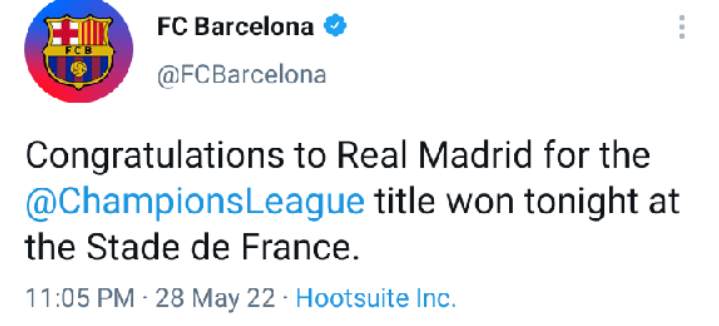 BARCELONA TWEETED TO CONGRATULATE REAL MADRID AS SOON AS THEY WON THE CHAMPIONS LEAGUE.
This does not stop each club from taking jabs at each other and players crossing from one club to the other is still considered an anathema. Nevertheless, the whole thing is always balanced and kept in check.
The fact is that Real Madrid may still have a slight edge over Barcelona who are still in a terrible strait financially but the truth is that Barcelona is actively repositioning to dethrone Real Madrid domestically and in Europe and few will bet against them doing it this season. One thing is sure though, Barcelona and Real Madrid are the greatest teams in the globe as things stand today.